Mouse Biology Program and UC Davis Health awarded nearly $4 million to study models of obesity and diabetes
Posted on January 24, 2023
By Claudia Coons
The UC Davis Health Department of Surgery has received $3.75 million to launch a high-profile center where researchers can study metabolic disorders using mouse models. The goal is to learn more about the same diseases in humans.
The National Center for Metabolic Phenotyping of Mouse Models of Obesity and Diabetes (MPMOD) is being funded by the National Institute of Diabetes and Digestive and Kidney Diseases, which is part of the National Institutes of Health. The grant is for five years.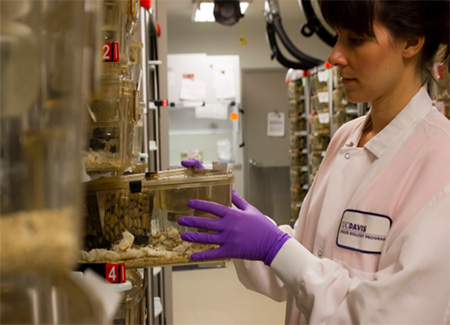 "This award supports UC Davis' leadership in the development and study of mouse models of diabetes, obesity and other metabolic disorders," said principal investigator and project director, Kent Lloyd. He is a professor in the Department of Surgery at the UC Davis School of Medicine, and director of the UC Davis Mouse Biology Program.
The new funding will advance this research. It will allow researchers to measure the impacts of diabetes, obesity, and other related metabolic disorders on laboratory mice that have been manipulated to model metabolic diseases in humans.
"Achieving these goals will translate research in mice to advance the understanding of human diabetes, obesity and related disorders and therefore improve diagnostics, therapeutics, and prevention strategies for our patient populations," Lloyd said.
UC Davis Health researchers will collaborate with four university centers across the nation in this effort. The others include the University of Michigan, Vanderbilt University, Yale University and Augusta University.
Also included in the funding is support for a pilot program called MPMOD Vibrant. This initiative seeks to provide resources, training and advice to early career scientists. A major focus will be on studies at institutions that serve faculty and trainees historically underrepresented in biomedical research.
"The Vibrant program will significantly expand the reach and impact of the MPMOD consortium," said co-investigator Sean Adams, a professor in the Department of Surgery and scientific director of the Center for Alimentary and Metabolic Science. "MPMOD-Vibrant will expand the research footprint of a diverse group of next-generation scientists, who will play a role in the prevention and treatment of obesity and diabetes."